In Bahia on Friday, the draw for Brazil 2014 represents a crucial stage in the incubation period of World Cup fever. For the next six months, symptoms may include fractured metatarsals,
a fixation with Brazilian hotel facilities and cravings for football nostalgia. Much like Second Season Syndrome, there is no known cure, but it is treatable.
The 19 previous tournaments have each provided their own iconic moments, images and (possibly apocryphal) tales. Looking back over the competition's history - and with logistical and ethical fears surrounding the 2014, 2018 and 2022 editions - just what would a perfect World Cup be like?
Format: 1998-present
The current 32-team, eight-group format arguably works better than anything before it, especially for those who enjoy the glorious televisual clutter of the group stages. The final-less tournament of 1950, despite its undeniably dramatic decider at the Maracana, would never be countenanced today.
Inevitably, though, some self-serving tinkering is afoot. Uefa president Michel Platini, looking ahead to the next Fifa presidental election in 2015, has proposed a 40-strong competition in 2018. An extra 32 group games, and the vast amount of dead rubber they would create, would test the resolve of even the most ardent group-stage marathon enthusiast.
Mascot: Ciao, 1990
The unveiling of an official mascot is traditionally one of the earliest glimpses of a forthcoming World Cup. In the years leading up to Italia '90, some creative soul provided - in the three-dimensional form of Ciao - a welcome deviation from chubby children in giant hats or anthropomorphic animals, fruit and vegetables. Sadly, next year's tournament organisers have reverted to the ever-marketable formula and given the world a cheerful armadillo called Fuleco.
Stadiums - Germany, 2006
Established in the 21st century as the low-cost template for how to cater for football fans, the German model (as we must apparently refer to it) lent itself perfectly to staging football's flagship event in 2006. No Fifa tournament will ever boast budget ticket prices, of course, but Germany's 12 impeccable venues oozed class, without a missed deadline or white elephant in sight. The strength of the array of venues was in such depth that the ic0nic Olympiastadion in Munich, host of the 1974 final, saw no match action.
Honourable mentions are certainly due elsewhere. Mexico City's Estadio Azteca witnessed several veritable World Cup classics in 1970 and, despite apparently being plagued by a giant spider hovering over the centre circle, provided a dramatic centrepiece second time around in 1986.
Group of Death - Group C, 1982
A prerequisite for any World Cup. The original phrase grupo de la muerte was first coined by Mexican journalists in 1970 as favourites Brazil and holders England were drawn against Romania and Czechoslovakia in the first round.

The deathliest group of all, though? In 1982, the second round pitted together holders Argentina, free-scoring favourites Brazil and eventual winners Italy, with only the winners progressing. A three-team group of death may not satisfy the criteria of the purists, but this was an unprecedented clash of the titans. In the end, a Paolo Rossi-inspired Italy edged out the Brazilians, while Argentina crumbled.
Friday's draw has the potential to concoct the most potent grupo de la muerte for over 40 years. The labyrinthine draw procedure could, for example, place England alongside hosts Brazil, the USA and either Italy or the Netherlands. Agreeing on a tournament's Group of Death is as important as deciding on its dark horses; this time, it is Belgium's exciting crop of yearlings that are looking to bolt before the stable door is shut.
TV coverage - BBC, 1986 and 1990
Coverage of major tournaments has never been slicker and more comprehensive but, in the YouTube age, there is no longer the same exotic sense of detachment and fear of the unknown - 2014's World Cup stars are already well-established. As the next Roger Milla prepares an impromptu arrival on the global stage, he may find the shop window rather cluttered when he gets there.

From the well-catered modern know-it-alls, we must look back to a more innocent age of World Cup broadcasting. Nearly 24 years on, the in-game Italia '90 graphics remain a classic of their rather niche genre. Those little dots of doom running down the side of the screen are as vivid a memory as Paul Gascoigne's tear-jerking yellow card, Gary Lineker's rifled equaliser or Chris Waddle approaching the penalty spot with the look of a condemned man.
The World Cups of 1986 and 1990 witnessed the BBC's commentary titans at the peak of their contrasting powers. Four years before a still-containable John Motson had conveyed perfectly the drama of Turin (without resorting to the crockery-themed nonsense of 2002), Barry Davies was at his schoolmasterly best in Mexico as England stuttered through the group stage:
"Agh - mistake by Fenwick! And again it's a three-against-two break...Ohhh, what an important foot in by Terry Butcher! But England just cannot afford to make crass errors like that! We've got away with it twice; we cannot tempt fate further."
Alongside Davies in the gantry was Jimmy Hill who, unlike the calming presence of Brooking in 1990, greeted England finally opening their account for the tournament against Poland in wonderful fashion:
Davies: "...four in the area...LINEKER!"
Hill: "Haaaaaaooooooooooooooooooo! Ha-ha-ha-hooooooooooooooo!"
At no point since Brooking and Hill left the gantry have we had a co-commentator that we felt was with us for every kick, every foul and every agonising miss. In Brazil next year, we will likely hear the overearnest observations of Andy Townsend, the verbal whirlwind of Mark Bright and - if we're very unlucky - Mark Lawrenson, the commentary equivalent of the groan-inspiring joke in a Christmas cracker. While studio punditry has begun to get its house in some sort of order, it seems that broadcasters (and perhaps we, the viewers) are yet to identify the right formula for the modern co-commentator. However, you can rely on the Beeb for a touch of class in the end credits.
Kits - USA '94
The goal-shy Italia '90 signalled the end for many of football's increasingly stale elements. Within two years, the backpass law had been introduced, increasing the speed and intensity of the game almost instantly.

Meanwhile, the next World Cup was to break new ground. The United States had won the right to host it, despite not having a domestic league to call its own,
and made up in sheer flamboyance what it lacked in genuine soccer pedigree. If the sight of Diana Ross bottling it from the penalty spot on the opening day wasn't arresting enough, USA '94 was notable for a kaleidoscopic explosion of 100% polyester.

With some stunning exceptions (Denmark's Hummel-designed efforts in 1986 continue to induce hipster swooning), football shirts had been mired in minimalism for decades. But now there was Sweden, Bulgaria, Norway and Romania. And Jorge Campos. The leading kit manufacturers, led by the bold stripes of Adidas, had chosen the perfect moment to throw caution to the wind.
Austerity may be about to make a comeback, however. A vaguely-worded passage in Fifa's 2014 tournament regulations refers to kits being "predominately" dark or light in colour. Spain have opted for an all-red strip, while Germany and Argentina will wear tradition-defying white shorts. An important part of World Cup iconography is under threat, but no-one is quite sure why.
Match ball - Adidas Tango, 1982
Surprisingly (or not, given that they're a rather fundamental piece of equipment) match balls have
an eventful World Cup history
. The very first final in 1930 was preceded by a charmingly playground-style spat between Uruguay and Argentina who both insisted on using their own ball; a Fifa compromise finally saw them accept a half each.

Brown or orange leather balls were de rigueur at tournaments until 1970, when the truncated icosahedron made its debut. The Adidas Telstar's revolutionary black-and-white design (which improved the ball's visibility for TV viewers) remains, several decades later, the universally-understood symbol for "football". Even now, given a pen and paper, nobody is going to draw a picture of a Jabulani, are they?

Then, in 1978, came a design classic - the Adidas Tango. What it lacked in visual impact in comparison to its predecessor, it made up for in understated style. The design remained more or less intact through to the 1998 World Cup, when the Tricolore signalled the beginning of the end - multicoloured match balls. 2002's official abomination, the Fevernova, was blamed for a catalogue of poor free-kicks before World Cup balls reached their widely-accepted nadir in 2010 with the seemingly anti-gravity Jabulani. It remains to be seen what the goalkeepers' union think of the freshly-unveiled Brazuca.
The technique of thermal bonding, where stitching was once used, has produced near-frictionless beach balls that veer through the air and consternate the world's leading goalkeepers in the run-up to every tournament. Bring back the Tango. Or perhaps the delightfully-named 1962 ball, "Mr. Crack".
Goalscoring -
Spain, 1982
Until the expansion of the competition to 32 teams in 1998, the 1982 World Cup was the highest-scoring in history, but quantity did not come at the cost of quality.
Free-kicks flew in from every direction and Brazilians Eder, Socrates and Zico held their own personal goal of the tournament competition - mainly at the expense of a forlorn-looking Alan Rough in the Scotland goal.
1982 also gave us the greatest goal celebration of all time when Marco Tardelli wildly wheeled away, fists raised, as he put Italy in the driving seat against West Germany in the final. The sheer pace of Tardelli's celebratory spree, and the subtle arc of his run, makes it worth a thousand Roger Milla corner-flag jigs or Bebeto cradles.
More recently, the 2006 tournament featured an increasingly absurd selection of long-range efforts. In 1994, cavernous, billowing, luxurious goal nets characterised a World Cup of excess - record attendances, soaring temperatures and goals, goals, goals. 141 of them rifled, curled and slotted their way into these voluptuous onion bags, plus a visibly emotional Rashidi Yekini.
Indiscipline - Germany, 2006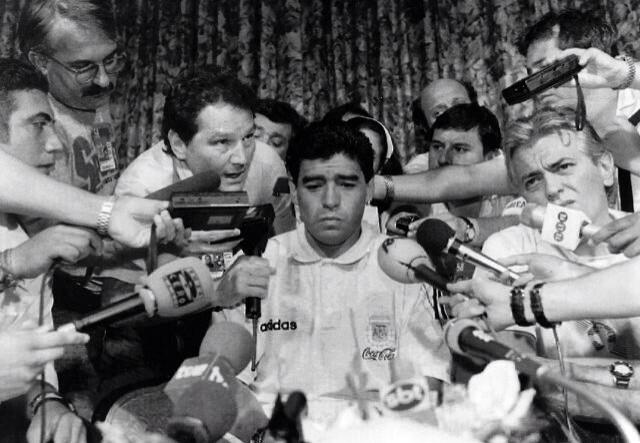 Despite repeated Fifa directives aimed at quelling them, acts of violence and disorder are an indelible feature of the rich World Cup tapestry.

Cameroon's attempts to cut Claudio Caniggia down to size in the opening match of Italia '90 are remembered as fondly as Francois Omam-Biyik's gravity-defying headed winner. Italian enforcer Claudio Gentile's 90-minute bullying of Diego Maradona in 1982 included a mere 23 fouls (despite, record books say, him being booked in the first minute). It was undeniably effective, though - Italy claimed a vital 2-1 win, and Gentile presumably pocketed Maradona's dinner money. After three consecutive tournaments of being kicked from pillar to post and back again, an ephedrine-fuelled Maradona would himself see his World Cup odyssey end in crazy-eyed ignominy in 1994.

Statistically, the 2006 finals stand out as the dirtiest of all. Their crown jewel of indiscretion was Portugal's second-round clash with the Netherlands, melodramatically dubbed the "The Battle of Nuremberg", which saw four red and 16 yellow cards and eclipsed both the Battles of Berne and Santiago in the process.
World Cup officials haven't always made life easy for themselves. Ecuadorian referee Byron Moreno's eccentric decisions in favour of co-hosts South Korea raised a few eyebrows (and broke a few Italian hearts) in 2002. Moreno would go on to be banned for 20 games in his home country for some suspicious timekeeping, and then jailed for 26 months for attempting to smuggle heroin into the US via his underpants. All of which makes Graham Poll's infamous administrative error in 2006, when he managed to book Josip Simunic three times, look rather tame.
Official World Cup Film -
Hero (1986)
An immediate thing you notice when looking back at Mexico '86 is the unrelenting sunshine. It created a tournament-long shimmer that more than compensated for the absence of potentially more dramatic floodlit matches, and Fifa's official film, Hero, unashamedly basks in the rays. Michael Caine's unhurried narration, backed by some genuinely wonderful Rick Wakeman synths,
betrays a detached awe of foreign football that would seem quaint now: Michael Laudrup, "from the glamorous Juventus club in the Italian league", slaloms about in slow-motion, and the irrepressible Hugo Sanchez drags the hosts to the quarter-finals.
The main protagonist of this World Cup is undeniable - Maradona is the anti-hero and the narrative is compelling.
You suspect they could easily have made this entire film from footage of him either being fouled or appealing in vain to unmoved referees. The muscular cannonball twists, turns and tricks his way past Uruguay, England and Belgium in the knockout stages before West Germany loom in the final at the Azteca. Argentina contrive to throw away a two-goal lead but, with one final piece of magic, Maradona releases Jorge Burruchaga to slide home the winner and complete El Diego's script - the greatest solo effort the world's biggest team sport has ever seen.
Winners
This hypothetical, perfect World Cup offers a chance for history's greatest also-rans to shine. The Brazil side of 1982 could only curl, dink and swerve their way to the second round but, 12 years later, Romario would finally toe-poke the Selecao to their fourth title.
Still waiting for their first triumph, and unfortunate enough to fall at the final hurdle to two consecutive host nations in 1974 and 1978, are the Netherlands. The first of those finals has taken on more and more of a hard-luck hue as the years have rolled by but the Dutch arrived in Munich after putting six goals past Brazil and Argentina without reply in the second round. A training-ground passing session led to Johan Cruyff being felled by Berti Vogts in the opening minute and, well, you know the rest.

For once, this perfect World Cup will risk the commensurate peril of writing the Germans off. The Italians and Brazilian trophy cabinets are already well-stocked, and Spain's possession-hoarding metronomes have already seen the early rumblings of a backlash. Cruyff gets his hands on a World Cup trophy (not the punier Jules Rimet version, although it's a close call) and his legacy, like Maradona's, has its crowning glory.
Cue Luciano...